¡Fuera de aquí, horrible monstruo verde! (Primeras travesías) (Hardcover)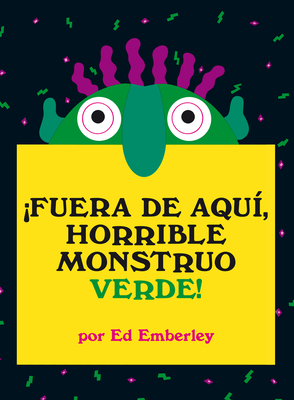 Description
---
¿Qué tiene una nariz verde-azulada, afilados dientes blancos y grandes ojos amarillos? ¡Es Horrible Monstruo verde! Pasa las páginas de este libro y míralo crecer. Luego cuando estés listo para mostrarle quién manda aquí sigue pasando las páginas y hazlo desaparecer. Ed Emberley ha escrito, diseñado e ilustrado más de 80 libros para niños. 20 de los cuales continúan imprimiéndose. Vive cerca de la ciudad de Boston, en Massachussets, EUA. Con ¡Fuera de aquí, horrible monstruo verde! se hizo acreedor a la prestigiada Medalla Caldecott.

What has a bluish-green nose, sharp white teeth, and big yellow eyes? It's Big Green Monster! Watch it grow as the pages go on. Then, when you're ready to show it who's boss, keep turning the pages and make it disappear.
About the Author
---
Ed Emberley holds a degree in fine arts from the Massachusetts School of Art in Boston and studied at the Rhode Island School of Design. He has illustrated or contributed to more than 50 books. His first book, The Wing on a Flea, was considered the most important illustrated book of 1961, the year it was published. In 1968 he earned a Caldecott Medal and the Lewis Carroll Shelf Award for the illustrations he created for his wife's book, Drummer Hoff.
Praise For…
---
"The Caldecott Medalist makes wonderful use of innovative production techniques in this ingenious offering . . .  A joy to read aloud, the simple story entertains even as it helps its audience master common fears." —Publishers Weekly, on the English language edition

"A graphic delight." —School Library Journal, on the English language edition

"A satisfying game that may also allay some nighttime fears." —Kirkus Reviews, on the English language edition