The Perfect Rock (Hardcover)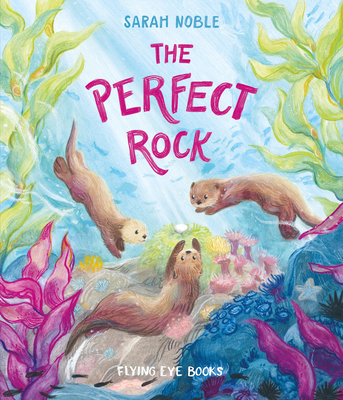 $16.99
Email or call for price
Description
---
The themes of individuality, sharing, and sibling rivalry come to a head when three otter siblings choose the same rock to play with.

"...The perfect rock proves an ideal metaphor for the strength, comfort, and love of family. Heartwarming and uplifting."
—Kirkus Reviews

"This sweet story with adorable illustrations is very satisfying for otter lovers."
—Jean Little Library

For an otter, a rock has many uses. It can be a tool to break shells for food, an entertaining toy, or even just something to admire. Choosing a rock is a very important decision. Many otters will carry their rock with them their entire lives, safely stored in a small pouch under their arms. But what happens when three otter siblings choose the same rock?

This is a story of three otter siblings who are hunting for their perfect rock. They usually do everything together, so this proves a difficult challenge. Then, when they all pick the same rock, they must decide who deserves to keep it.
About the Author
---
Sarah Noble is an illustrator/author with a passion for colour, composition and storytelling. She earned a Bachelor of Fine Arts from Brigham Young University and a Masters in Children's Book Illustration from the Cambridge School of Art in the UK. She aims to create beautiful, thought- provoking narratives that resonate with both
young and old audiences through her soft and intricate art style. She is the author of As Strong as the River.


Praise For…
---
Selected by the CBC's  Love Makes the World Go Round Summer 2022 Showcase

"Lively illustrations capture the luminosity and fluidity of the sea as well as the playfulness of the sleek little otters in close-ups, vignettes, and double-page spreads, while the perfect rock proves an ideal metaphor for the strength, comfort, and love of family. Heartwarming and uplifting."
—Kirkus Reviews

"This sweet story with adorable illustrations is very satisfying for otter lovers."
—Jean Little Library