The Secrets of the Wild Wood (Paperback)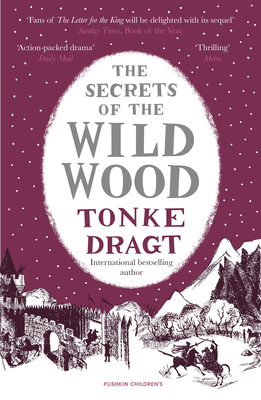 Description
---
A stunning gift edition of the thrilling Sunday Times and Telegraph Book of the Year, the sequel to The Letter for the King.

One of the King's most trusted knights has vanished in the snow, so young Sir Tiuri and his best friend Piak must journey into the shadowy heart of the forest to find him. The Wild Wood is a place of mysteries, rumours and whispered tales. A place of lost cities, ancient curses, robbers, princesses and Men in Green.

As the darkness surrounds him and reports grow of secret plots and ruthless enemies, Tiuri finds himself alone and fighting for survival - caught in a world where good and evil wear the same face, and the wrong move could cost him his life...
About the Author
---
Tonke Dragt was born in Jakarta in 1930 and spent most of her childhood in Indonesia. When she was twelve, she was interned in a camp run by the Japanese occupiers, where she wrote (with a friend) her very first book using begged and borrowed paper. Her family moved to the Netherlands after the war and, after studying at the Royal Academy of Art in The Hague, Dragt became an art teacher. She published her first book in 1961, followed a year later by The Letter for the King, which won the Children's Book of the Year award and has been translated into sixteen languages. Dragt was awarded the State Prize for Youth Literature in 1976 and was knighted in 2001.

Laura Watkinson studied medieval and modern languages at Oxford, and taught English  around the world before returning to the UK to take a Master's in English and Applied Linguistics, and a postgraduate certificate in literary translation. She is now a full-time translator from Dutch, Italian and German, and has translated a number of titles for Pushkin Children's Books including Winter in Wartime, Lampie, and Letter for the King.
Praise For…
---
"Young Sir Tiuri, recently knighted following the events in The Letter for the King, finds the adventure he seeks deep in the mysterious Wild Wood. The translation flows smoothly and may well appeal to young fans of knightly adventure tales. . . An old-fashioned Arthurian-esque adventure for those who enjoy that genre's satisfying storytelling pleasures." — Kirkus Reviews

"[A] classic medieval adventure. . . Dragt and her translator, Watkinson, evoke the quiet, timeless pleasures of gallant knights on heroic quests in a time of wonder." — Booklist

"Action-packed drama." - Daily Mail

"Thrilling." - Metro

"Fans will be delighted... The Secrets of the Wild Wood... takes Tiuri back into the perilous wood, forefronts some of the female characters and offers intrigue, action and escapism." - Sunday Times, Children's Books of the Year

"Adventures of the classic kind await in The Secrets of the Wild Wood." - Telegraph, Books of the Year

"Tiuri's adventures take a supernatural turn as he travels through the wild wood on the trail of a missing knight. It is a place of lost cities, robbers, unreliable princesses and mysterious men in green, all posing challenges to the intrepid hero. [This book] deserves readers of all ages." - Sunday Express

"For those stay-in and curl-up days." - Jewish Chronicle

"A spellbinding tale that will appeal to the young and old." - The Lady

"Remarkable... rich in colour, action and verbal virtuosity... Between the pages are all the essential and traditional ingredients of a timeless and heroic tale with its motifs of friendship, love, courage, loyalty, chivalry... and vile villainy." - Lancashire Evening Post