The Letter For The King (Paperback)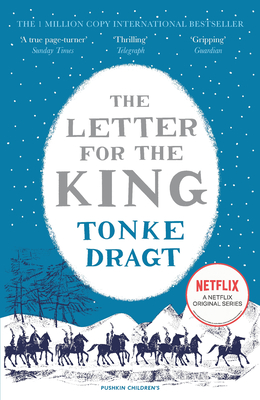 Description
---
A NETFLIX ORIGINAL SERIES

For fans of Tolkien-inspired fantasy and Arthurian mythos comes this prize-winning fantasy adventure about one knight's battle against evil

It is the dead of night. Sixteen-year-old Tiuri must spend hours locked in a chapel in silent contemplation if he is to be knighted the next day. But, as he waits by the light of a flickering candle, he hears a knock at the door and a voice desperately asking for help. A secret letter must be delivered to King Unauwen across the Great Mountains—a letter upon which the fate of the entire kingdom depends. Tiuri has a vital role to play, one that might cost him his knighthood.

Tiuri's journey will take him through dark, menacing forests, across treacherous rivers, to sinister castles and strange cities. He will encounter evil enemies who would kill to get the letter, but also the best of friends in the most unexpected places. He must trust no one. He must keep his true identity secret. Above all, he must never reveal what is in the letter . . .

The Letter for the King is the thrilling story of one boy's battle against evil, set in an enchanted world of chivalry, courage, and true friendship.
About the Author
---
Tonke Dragt was born in Jakarta in 1930 and spent most of her childhood in Indonesia. When she was twelve, she was interned in a camp run by the Japanese occupiers, where she wrote (with a friend) her very first book using begged and borrowed paper. Her family moved to the Netherlands after the war and, after studying at the Royal Academy of Art in The Hague, Dragt became an art teacher. She published her first book in 1961, followed a year later by The Letter for the King, which won the Children's Book of the Year award and has been translated into sixteen languages. Dragt was awarded the State Prize for Youth Literature in 1976 and was knighted in 2001.

Laura Watkinson studied medieval and modern languages at Oxford, and taught English  around the world before returning to the UK to take a Master's in English and Applied Linguistics, and a postgraduate certificate in literary translation. She is now a full-time translator from Dutch, Italian and German, and has translated a number of titles for Pushkin Children's Books including Winter in Wartime, Lampie, and Letter for the King.
Praise For…
---
"Dragt conjures up elements of Tolkien and the Arthurian mythos... the rich language, lush descriptions, and sense of wonder allow it to hold its own against any competitor." — Publishers Weekly

"Readers will be enchanted by its timeless sense of wonder and adventure. This hero's journey evokes a legend in the making, and Tiuri embodies the classic knightly ideals of honor, valor, and chivalry." —Booklist

"The English translation of a prizewinning 1962 Dutch historical adventure exhibits... old-school charms." — Kirkus

"The characters are appealing and the action will keep readers engaged." — School Library Journal

"A true page-turner." — Sunday Times (UK)

"A thrilling, page-turning tale... My 10- and 11-year-old were both gripped." — Telegraph (UK)