Afrotopia (Univocal) (Paperback)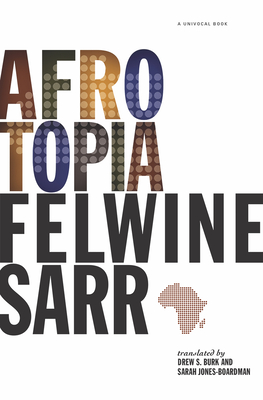 Email or call for price.
Usually Ships in 1-5 Days
Description
---
A vibrant meditation and poetic call for an African utopian philosophy of self-reinvention for the twenty-first century

In the recent aftermath of colonialism, civil wars, and the AIDS crisis, a new day finally seems to be shining on the African continent. Africa has once again become a site of creative potential and a vibrant center of economic growth and production. No longer stigmatized by stereotypes or encumbered by the traumas of the past—yet unsure of the future—Africa has other options than simply to follow paths already carved out by the global economy. Instead, the philosopher Felwine Sarr urges the continent to set out on its own renewal and self-discovery—an active utopia that requires a deep historical reflection on the continent's vast mythological universe and ancient traditions, nourishes a cultural reinvention, and embraces green technologies for tackling climate change and demographic challenges.
Through a reflection on contemporary African writers, artists, intellectuals, and musicians, Sarr elaborates Africa's unique philosophies and notions of communal value and economy deeply rooted in its ancient traditions and landscape—concepts such as ubuntu, the life force in Dogon culture; the Rwandan imihigo; and the Senegalese teranga. Sarr takes the reader on a philosophical journey that is as much inward as outward, demanding an elevation of the collective consciousness.
Along the way, one sees the contours of an africanity, a contemporary Africa united as a continent through the creolization of its cultural traditions. This is Felwine Sarr's Afrotopia.
About the Author
---
Felwine Sarr is a humanist, philosopher, economist, and musician who teaches at the University of Gaston-Berger in Saint Louis, Senegal. He is coauthor of the groundbreaking report "The Restitution of African Cultural Heritage: Toward a New Relational Ethics." Afrotopia is his first book translated into English.
Drew S. Burk has translated more than a dozen works of continental philosophy and theory. 
Sarah Jones-Boardman is a French lecturer and holds a PhD in Francophone literature from the University of Minnesota.