Stillwater and Koo Save the World (A Stillwater and Friends Book) (Hardcover)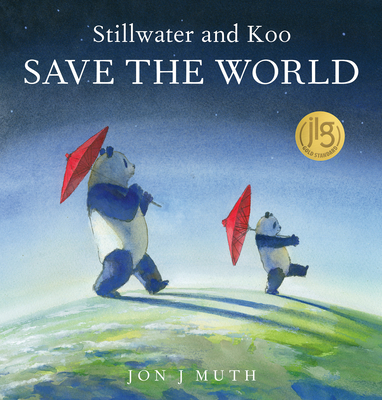 $18.99

Usually Ships in 1-5 Days
Description
---
Here is the first of four exciting new books for younger readers featuring the beloved Zen panda, Stillwater -- star of the Caldecott Honor Book and New York Times bestseller, Zen Shorts, and of the Peabody Award and three-time Emmy Award-winning Apple+ TV series.
A Junior Library Guild Gold Standard Selection
* "A stunning, tender testament to the idea that small acts of kindness, one by one, make a huge impact." — Kirkus Reviews, starred review
* "The resolution 'each time you do something good, you save the world a little bit,' is inspiring." — Booklist, starred review
* "…An intriguing, intimate-feeling peek into the pandas' household…they show respect for each other, their surroundings, and all living beings, in an effort to take care of the world and each other." — Publishers Weekly, starred review
Today feels full of opportunities! "What would you like to do?" Stillwater asks Koo.
"Something important! Fix all the things that are wrong! Let us save the world," says Koo (who always speaks in haiku).
But this is a very big idea for a little panda.
During the course of the day, Koo discovers that it's the little acts of kindness that all add up to help make the world a better place.
In a story brimming with love and light, Jon J Muth shows how we can all heal the world a little bit at a time — just the right message for now, and for always!
About the Author
---
Jon J Muth is beloved all over the world for his seven books featuring Stillwater the Panda, whose love and balanced approach to life always serve to make the world a better place for his young friends. Muth's many enchanting picture books include his Caldecott Honor Book Zen Shorts, Addy's Cup of Sugar, Stone Soup, and The Three Questions, which the New York Times Book Review called "quietly life-changing." His books have been translated into more than 23 languages and are cherished by readers of all ages. Muth draws inspiration from his life-long interest in Asian Studies, including tai chi chuan, sumi ink drawing, and chado, "the way of tea." Muth is also renowned in the world of graphic novels. He won an Eisner Award for his paintings in the graphic novel, The Mystery Play by Grant Morrison. He's partnered with Neil Gaiman on The Sandman: The Wake, Walter and Louise Simonson, and Kent Williams on Havoc & Wolverine: Meltdown, J. M. DeMatteis on Moonshadow and Silver Surfer, and with Stanislaw Lem on The Seventh Voyage which was nominated for an Eisner Award for Best Adaptation in Another Medium. He lives in New York State with his wife and their four children.
Praise For…
---
Praise for Stillwater and Koo Save the World:A Junior Library Guild Gold Standard Selection ​​​​​​ * "Powerful words indeed, and mission accomplished! This beautifully told story makes clear that, with patient guidance, praise, and role modeling from loving grown-ups, children can learn to be kind and caring and to "save the world" in small, doable ways.… A stunning, tender testament to the idea that small acts of kindness, one by one, make a huge impact." — Kirkus Reviews, starred review ​​​​​​​ * "The illustrations, done in delicate watercolors and pencil, lend both beauty and comic detail to the story. The resolution 'each time you do something good, you save the world a little bit,' is inspiring." — Booklist, starred review
* "[Muth's] watercolors provide an intriguing, intimate-feeling peek into the pandas' household goings-on, while abundant white space and a generous trim size contribute to an atmosphere of tranquility. . . . they show respect for each other, their surroundings, and all living beings, in an effort 'to take care of the world and each other." — Publishers Weekly, starred review
Praise for Addy's Cup of Sugar: NAIBA's 2021 Books of the Year Winner! 2021 Bank Street Best Children's Books of the Year List * "With simple, direct storytelling, Muth reveals the immanence within everyday life, a theme underscored by the perfect watercolor illustrations.... This gracefully told story will comfort readers who have experienced death with its healthy truth while the gorgeous illustrations will uplift them... a master class of picture-book storytelling." -- Kirkus Reviews, starred review
Distinctions and Praise for Zen Shorts: A Caldecott Honor Book Book Sense Book of the Year Award NAIBA Book of the Year Award A Kirkus Reviews Best Book of the Year New York Public Library's 100 Titles for Reading and Sharing * "Both an accessible, strikingly illustrated story and a thought-provoking meditation." -- Booklist, starred review * "Every word and image comes to make as perfect a picture book as can be." -- Kirkus Reviews, starred review "Appealing enough for a group read-aloud, but also begging to be shared and discussed by caregiver and child, Zen Shorts is a notable achievement." -- School Library Journal
Distinctions and Praise for Zen Ties: NAIBA Book of the Year Award Children's and Teen Choice Book Award Winner Cybils Picture Book Award Finalist A Washington Post Best Children's Book of the Year ​​​​​ ​*​ "Muth's brush is as sure as ever; Stillwater's big, blunt paws and hunched-over listening posture are irresistible, and Miss Whitaker's delicate face and snow-white hair beautifully counterpoint the vignettes of youthful play." -- Publishers Weekly, starred review "The pleasure, as always, is with Muth's irresistible storytelling, both visual and textual... The story's theme of intergenerational kindness is tender, and the text is infused with bits of haiku, wordplay and small lessons that charmingly avoid didacticism. A welcome return." -- Kirkus Reviews "A rich and wonderful offering." -- School Library Journal
Distinctions and Praise for Zen Ghosts: A Notable Social Studies Trade Book for Young People * "Muth's art remains strikingly beautiful, and Stillwater is perennially charming." -- Publishers Weekly, starred review "A beautiful, contemplative offering." -- Booklist Breathtaking... The book functions on many levels... and succeeds spectacularly on all of them." -- School Library Journal
Distinctions and Praise for Zen Socks: An Amazon Editors' Children's Book of the Year * "Strikingly beautiful... perennially charming." -- Publishers Weekly, starred review "Lessons of patience, compassion, and sharing, delivered gently." -- Kirkus Reviews
Distinctions and Praise for Hi, Koo!: New York Public Library's 100 Titles for Reading and Sharing A Parents' Choice Award Gold Medal Winner A Cybils Award Poetry Finalist ​​​​​​​ * "It's a joyous addendum to the Stillwater books, and it overflows with the same characteristic tenderness." -- Publishers Weekly, starred review ​​​​​​​ * "Yields huge effect; in a word, magical." -- Kirkus Reviews, starred review ​​​​​​​ "Even readers who are not typically interested in poetry will be captivated by Muth's artistry in both words and images." -- School Library Journal
​​​​​​​
Praise for The Three Questions: ​​​​​​​ "Quietly life changing..." -- The New York Times Book Review ​​​​​​​ * "A soaring achievement." -- Kirkus Reviews, starred review ​​​​​​​ * "Moral without being moralistic, the tale sends a simple and direct message unfreighted by pomp or pedantry. Muth's art is as carefully distilled as his prose. A series of misty, evocative watercolors in muted tones suggests the figures and their changing relationships to the landscape." -- Publishers Weekly, starred review