Clever Katarina: A Tale in Six Parts (Hardcover)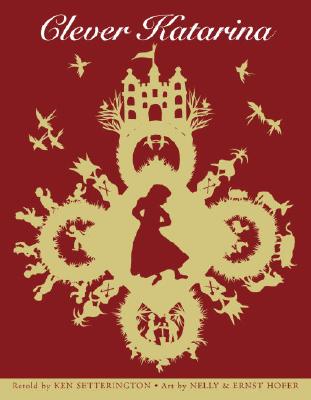 $17.95

Special Order subject to availability
Description
---
In the grand tradition of fairy tales, clever and beautiful Katarina must solve the king's riddle in order to become queen, or risk her dear father going to prison. She must get to the castle — not clothed, yet not naked; not riding, yet not walking; not on the road, yet not off the road. Will kindhearted Katarina be able to solve the riddle and save her father from his fate?

Renowned storyteller Ken Setterington has borrowed from European folk traditions to tell an enchanting story of a young girl — intelligent, observant, and pure of heart — whose sensitivity and acumen saves the day.

Nelly and Ernst Hofer's delicate cut-paper art of scherenschnitt makes this storybook an exquisite addition to any collection.
About the Author
---
Ken Setterington is an international authority on children's books. He was named the first Children and Youth Advocate for Library Services by the Toronto Public Library and won a prestigious Toronto Arts Award for Writing and Publishing for his work with children's literature. Most recently, he co-wrote "A Guide to Canadian Children's Books." He has published two books for children with Tundra: "The Snow Queen" and "Wild Swans," both of which were also illustrated by the Hofers.

Nelly and Ernst Hofer learned the folk art of scherenschnitt in their native Switzerland. Their first book was the award-winning "Silent Night: The Song From Heaven" by Linda Granfield. Nelly and Ernst Hofer live on a farm in Perth County, Ontario.
Praise For…
---
Praise for Wild Swans:

"[Ken Setterington] uses a prose style that is graceful and appropriate…. Elegant, amazingly intricate full-page [scherenschnitt] illustrations grace the beginning of each of the six parts of the tale."
— School Library Journal

"…an elegant retelling full of drama…. The Hofers … intricate, artful black-and-white cut-paper illustrations [Scherenschnitte] are a perfect match for this tale.…"
— Globe and Mail

"With flowing and precise narrative, the storytelling talent of Ken Setterington … is a gift to the reader. From the first line … this story captivates and absorbs … beautifully written.…"
— Resource Links