Korean Folktales for Language Learners: Traditional Stories in English and Korean (Free Online Audio Recordings) (Paperback)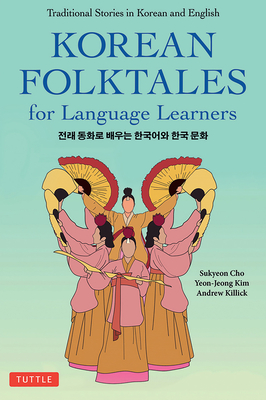 $18.99

Usually Ships in 1-5 Days
Description
---
Learn about Korean culture while improving your language skills
Korean Folktales for Language Learners
presents 36 traditional folktales in parallel Korean and English versions on facing pages, with detailed notes and exercises aimed at beginning to intermediate language learners. Free online recordings of all the Korean stories are available to help students improve their pronunciation and comprehension skills.
The stories--which gradually increase in complexity as the book progresses--include:
"The Tiger with the Frozen Tail" - A wily rabbit persuades a hungry tiger to break a hole in the ice of a frozen river to catch fish with his tail. When the hole freezes, the tiger is trapped.
"The Shepherd and the Fairy" - The Heavenly Jade Emperor's daughter falls in love with a shepherd boy who plays beautiful music. She wants to marry him, but her angry father turns her into a goldfish.
"The Money in the Cauldron" - When a burglar breaks into the home of a poor scholar, he finds there is nothing to steal. The burglar feels sorry for him and leaves money behind.
This elegantly illustrated volume is designed to help language learners expand their Korean vocabulary and grammar. The Korean vocabulary lists, exercises and audio recordings are designed as practice for first- and second-year Korean students. This entertaining anthology in English is complemented by cultural notes and discussion questions that further reinforce understanding Korean culture.
About the Author
---
Sukyeon Cho is the director of the Korean language program at the University of Sheffield in the UK. She has received numerous awards for her contributions to Korean language teaching, including the prestigious South Korean President's Award. Yeon-Jeong Kim has taught Korean language at the University of Sheffield since 2014. She holds a Master of Arts degree in Intercultural Communication from the University of Sheffield. Previously, she taught Korean to people from different linguistic and cultural backgrounds in Korea and Japan. Andrew Killick is a reader in ethnomusicology at the University of Sheffield and has published two books and numerous articles on Korean music. He spent six years in Korea teaching English and researching music.