Figment (Hardcover)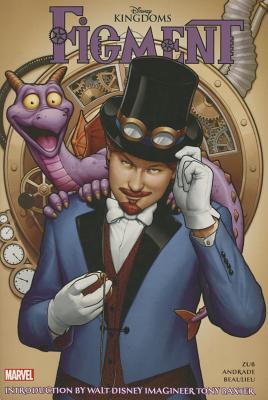 Description
---
The next great Disney adventure is here--starring one of Disney's most popular characters! Dive into a steampunk fantasy story revealing the origin of the inventor known as Dreamfinder, and learn how one little spark of inspiration created a purple dragon called Figment! Our daring duo explore the realms of imagination, finding friends and foes alike--while back on Earth, a clockwork army assembles under the command of the frightening force known only as the Singular! And when Clockwork Control invades London while the intrepid explorers are trapped within the Nightmare Nation, the only obstacles standing between the Singular and total domination are Dreamfinder, Figment and their newfound friends! Acclaimed and uniquely talented creators Jim Zub (Skullkickers) and Filipe Andrade (CAPTAIN MARVEL) give a Marvel spin to Epcot's mind-bending attraction, Journey into Imagination! COLLECTING: FIGMENT 1-5
About the Author
---
Jim Zub is a writer, artist and art instructor based in Toronto, Canada. Over the past ten years he's worked for a diverse array of publishing, movie and video game clients including Disney, Warner Bros., Capcom, Hasbro, Bandai-Namco and Mattel.
He juggles his time between being a freelance comic writer and Program Coordinator for
Seneca College
's award-winning
Animation
program.
His current comic projects include
Dungeons & Dragons: Legends of Baldur's Gate
, a new series celebrating 40 years of the classic tabletop RPG,
Samurai Jack
, continuing the award-winning cartoon,
Wayward
, a modern supernatural story about teens fighting Japanese mythological monsters,
Skullkickers
, a sword & sorcery action-comedy, and
Disney Kingdoms: Figment
, telling the secret origin story of Disney's famous theme park mascot.