Chaosbound: The Eighth Book of the Runelords (Mass Market)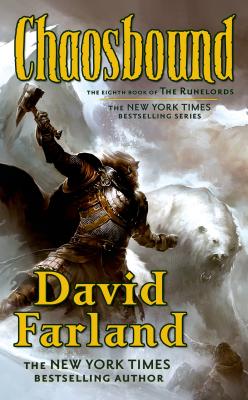 Other Books in Series
This is book number 8 in the Runelords series.
Description
---
Borenson is set on a quest to save the devastated world from certain destruction. But the land has been altered forever: in the change, Borenson has merged with a mighty and monstrous creature from the other world, Aaath Ulber, and he begins to be a different person, a berserker warrior, as well as having a huge new body. Thousands have died, lands have sunk below the sea and elsewhere risen from it. And the supernatural rulers of the worlds are part of a universal evil, yet play a byzantine game of dark power politics among themselves. And Aaath Ulber is now the most significant pawn in that game.
About the Author
---
David Farland is the author of the bestselling Runelords series, including Chaosbound, The Wyrmling Horde and Worldbinder. He also writes science fiction as David Wolverton. He won the 1987 Writers of the Future contest, and has been nominated for a Nebula Award and a Hugo Award. Farland also works as a video game designer, and has taught writing seminars around the U.S. and Canada. He lives in Saint George, Utah.
Praise For…
---
"Stark, dark, and elegiac. . . . Farland ponders the fuzzy line between honor and obsession in a world where compassion comes with a high price. . . . Complex machinations soaked in mud and blood." —Publishers Weekly on Chaosbound
"David Farland has written a series that rivals the best of Terry Brooks, Terry Goodkind and Orson Scott Card." —SF Revu on Worldbinder
"The suspense is real, the action is nonstop, and the characterizations continue to convince. . . . [this is] a series that has put Farland on high-fantasy readers' maps." —Booklist on The Lair of Bones
"Fans of Robert Jordan and Terry Goodkind will enjoy Farland's Runelords." —Romantic Times Book Reviews on The Lair of Bones
"The author's imaginative approach to magic, coupled with a richly detailed fantasy world and a cast of memorable heroes and villains, adds depth and variety to this epic tale of war and valor." —Library Journal on Wizardborn
"Sure, Brotherhood has incredible edge-of-your-seat, nail-biting battle scenes--the finale being an exceptional example--but Gaborn's struggle to make a decision, and then facing the consequences, is equally thrilling." —Starlog on The Brotherhood of the Wolf
"When I reached the end of this first volume, The Runelords, and saw grace arise from a devastating battlefield where too many great hearts lay dead, Farland had earned the tears that came to my eyes. It was not sentiment but epiphany." —Orson Scott Card, author of Ender in Exile
"Farland has created a vivid, detailed, different world that becomes perfectly believable." —David Drake, author of The Legions of Fire
"David Farland's Runelords books are among the best fantasies on the market today. Great characters, a fascinating concept, and some really nasty monsters make each novel a pleasure to read." —Kevin J. Anderson, New York Times bestselling author of The Winds of Dune