Outside Art (Hardcover)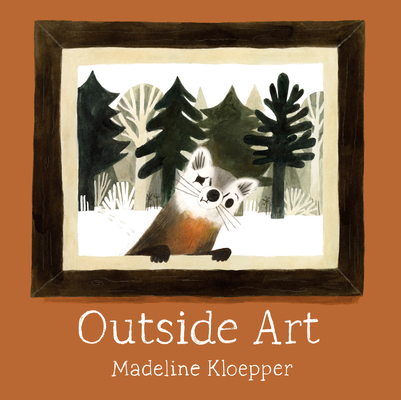 $18.99

Usually Ships in 1-5 Days
Description
---
Join a curious pack of woodland animals as they try to understand what art is and create their own in this beautiful, playful picture book.

Pine Marten loves watching Human doing peculiar things in its log nest in the woods. One day, she notices Human putting colors on a board using a furry stick. Pine Marten learns from Chickadee that Human is actually "an artist" and is busy "making art." But what is art?

Soon all of the animals in the forest are wondering: why is Human doing this? Is it a warning? Is it looking for a mate? Is there any meaning at all? And if Human can make "art," why can't the animals do it too?

Outside Art is a gorgeous and gently humorous exploration of art, creativity and nature by up-and-coming author-illustrator Madeline Kloepper.
About the Author
---
MADELINE KLOEPPER is a graduate of Emily Carr University of Art and Design. She grew up in the lower mainland of British Columbia amidst a sea of humans and spent a few years in Vancouver; she has since migrated northward to Prince George. Her work is influenced by childhood, nostalgia and the relationships we forge with nature, no doubt inspired by her love of exploring the Pacific Northwest. She is the author-illustrator of The Not-So Great Outdoors. She is also the illustrator of Cary Fagan's Little Blue Chair, Robert Heidbreder's Rooster Summer and M.H. Clark's Tiny, Perfect Things.
Praise For…
---
One of CCBC's Best Books for Kids and Teens, Fall 2021 — Starred Pick

"The illustrations, with their nature-hued palette, simple, sturdy forms, and good use of white space . . . [are] appealing [and] cozy." —Kirkus Reviews

"This outside-in approach to an enduringly thorny question is enlivened by gouache and pencil illustrations of a stylized woodland populated by wide-eyed creatures and one wild-haired Human, all busy making their marks on the world." —Publishers Weekly

"This is an entertaining exploration of art's various meanings, for creator and viewer, and how it can engage and inspire." —Booklist

"Outside Art is sure to ignite much stimulating conversation and ideas on this enduring philosophical question, making it a valuable and much-read addition to any home, public and school library. Highly Recommended." —CM Magazine