The Chronicles of Harris Burdick: Fourteen Amazing Authors Tell the Tales / With an Introduction by Lemony Snicket (Hardcover)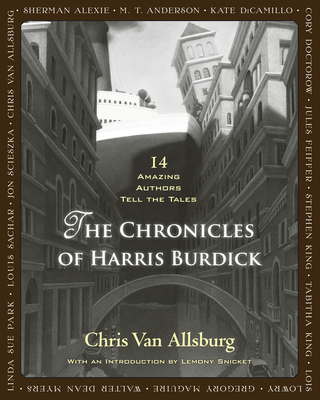 Description
---
An inspired collection of short stories by an all-star cast of best-selling storytellers based on the thought-provoking illustrations in Chris Van Allsburg's The Mysteries of Harris Burdick.
 
For more than twenty-five years, the illustrations in the extraordinary Mysteries of Harris Burdick by Chris Van Allsburg have intrigued and entertained readers of all ages. Thousands of children have been inspired to weave their own stories to go with these enigmatic pictures. Now we've asked some of our very best storytellers to spin the tales. Enter The Chronicles of Harris Burdick to gather this incredible compendium of stories: mysterious, funny, creepy, poignant, these are tales you won't soon forget.
 
This inspired collection of short stories features many remarkable, best-selling authors in the worlds of both adult and children's literature: Sherman Alexie, M.T. Anderson, Kate DiCamillo, Cory Doctorow, Jules Feiffer, Stephen King, Tabitha King, Lois Lowry, Gregory Maguire, Walter Dean Myers, Linda Sue Park, Louis Sachar, Jon Scieszka, Lemony Snicket, and Chris Van Allsburg himself.

     Van Allsburg's Harris Burdick illustrations have evoked such wonderment and imagination since Harris Burdick's original publication in 1984; many have speculated or have woven their own stories to go with his images. More than ever, the illustrations send off their eerie call for text and continue to compel and pick at the reader's brain for a backstory—a threaded tale behind the image. In this book, we've collected some of the best storytellers to spin them.
About the Author
---
Chris Van Allsburg is the winner of two Caldecott Medals, for Jumanji and The Polar Express, as well as the recipient of a Caldecott Honor Book for The Garden of Abdul Gasazi. The author and illustrator of numerous picture books for children, he has also been awarded the Regina Medal for lifetime achievement in children's literature. In 1982, Jumanji was nominated for a National Book Award and in 1996, it was made into a popular feature film. Chris Van Allsburg is a former instructor at the Rhode Island School of Design. Visit him at chrisvanallsburg.com. 
Praise For…
---
"Engaging, with strokes of brilliance"—Kirkus
"This star-studded exercise in creative writing tests the wits of favorite authors and shows readers how even the big shots hone their craft."—Publishers Weekly, starred review
"The stories embrace a range of styles and subjects, but, like their enigmatic and mysterious inspirations, each touches on the strange, the odd, and the fantastic."—The Horn Book Magazine
"While the stories are distinct—by turns funny, sinister, and touching—they have much in common, sharing an arch tone, a curious metaphysicality, and some familiar folk-tale tropes, and the authors' commitment to the original conceit gives the volume additional cohesion."—Booklist