The Quest of the Fair Unknown (The Squire's Tales #8) (Paperback)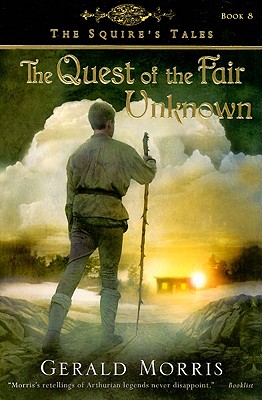 Description
---
On her deathbed, Beaufils's mother leaves him with a quest and a clue: find your father, a knight of King Arthur's court. So Beaufils leaves the isolated forest of his youth and quickly discovers that he has much to learn about the world beyond his experience. Beaufils's innocence never fails to make his companions grin, but his fresh outlook on the world's peculiarities turns out to be more of a gift than a curse as they encounter unexpected friends and foes.

With his constant stream of wise fools and foolish wise men, holy hermits and others of rather less holiness, plotting magicians and conniving Ladies, Gerald Morris infuses these medieval stories with a riotous humor all his own.
About the Author
---
When Gerald Morris was in fifth grade he loved Greek and Norse mythology and before long was retelling the stories to his younger sister and then to neighborhood kids. He began carrying a notebook in which he kept some of the details related to the different stories. The joy he found in retelling those myths continued when he discovered other stories. According to Gerald Morris, "I never lost my love of retelling the old stories. When I found Arthurian literature, years later, I knew at once that I wanted to retell those grand tales. So I pulled out my notebook . . . I retell the tales, peopling them with characters that I at least find easier to recognize, and let the magic of the Arthurian tradition go where it will." Gerald Morris lives in Wausau, Wisconsin, with his wife and their three children. In addition to writing he serves as a minister in a church.
Praise For…
---
A heartwarming and thought-provoking tale, this story is sure to entertain readers.
School Library Journal

"Morris' retellings of Arthurian legends—and others from English lore, mostly medieval—never disappoint." Booklist, ALA

"This installment . . . maintains the same comfortable balance of epic adventure, earnest idealism, and gentle humor that has made the series so successful in bringing Arthurian legends to young readers." Horn Book

Morris continues his intelligent retellings of Arthurian legends with a tale of multiple quests.
Kirkus Reviews —