The Coming of the Dragon (Hardcover)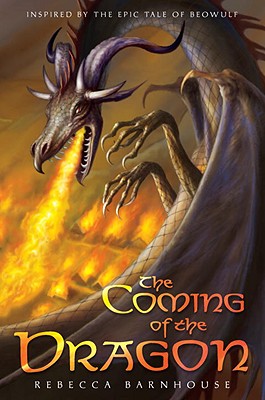 Description
---
Rebecca Barnhouse weaves Norse gods, blood feuds, and a terrifying dragon into this spectacular retelling of the end of the Old English poem "Beowulf."
When he was a baby, Rune washed up onshore in a boat, along with a sword and a pendant bearing the runes that gave him his nickname. Some people thought he was a sacrifice to the gods and wanted to send him right back to the sea. Luckily for Rune, King Beowulf disagreed. He lifted the boy from the boat and gave him to Amma, a wisewoman living on a farm far removed from the king's hall, to raise as she saw fit.
Sixteen years later, Rune spends his summers laboring on the farm. And at King Beowulf's request, he comes to the hall each winter for weapons training. But somehow he never quite fits in. Many people still fear he will bring a curse on the kingdom. Then a terrible thing happens. On a lonely crag on a mountain that belongs to the giants, someone awakens a dragon. It is time for Rune to find the warrior inside himself and prove to the doubters once and for all that he is a true hero.
"From the Hardcover edition.
About the Author
---
Rebecca Barnhouse is the author of "The Book of the Maidservant." She first read "Beowulf" in Old English at the University of North Carolina at Chapel Hill, where she earned her doctorate, studying Anglo-Saxon manuscripts and medieval literature written in Old and Middle English, Old Norse, and other fascinating languages. She teaches and writes about medieval topics and about children s literature set in the Middle Ages. "From the Hardcover edition.""