Eileen: A Novel (Paperback)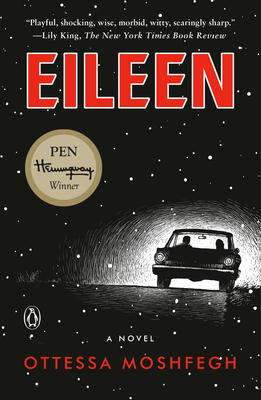 September 2015 Indie Next List
---
"Psychological thrillers don't get any better than this. Moshfegh masterfully captures the inner despair of a young mind filled with vitriol. Through atmospheric and unsettling writing, the cold dreariness of small-town New England seeps into readers' bones even as Eileen's twisted view of the world -- desperate, angry, and vulnerable -- seeps into the reading experience. Creepy, but morbidly funny too, Eileen, both the girl and the book, will be with readers long after the last page is turned."
— Christopher Phipps (M), DIESEL, A Bookstore, Oakland, CA
Description
---
Shortlisted for the 2016 Man Booker Prize and chosen by David Sedaris as his recommended book for his Fall 2016 tour. 
So here we are. My name was Eileen Dunlop. Now you know me. I was twenty-four years old then, and had a job that paid fifty-seven dollars a week as a kind of secretary at a private juvenile correctional facility for teenage boys. I think of it now as what it really was for all intents and purposes—a prison for boys. I will call it Moorehead. Delvin Moorehead was a terrible landlord I had years later, and so to use his name for such a place feels appropriate. In a week, I would run away from home and never go back.

This is the story of how I disappeared.
The Christmas season offers little cheer for Eileen Dunlop, an unassuming yet disturbed young woman trapped between her role as her alcoholic father's caretaker in a home whose squalor is the talk of the neighborhood and a day job as a secretary at the boys' prison, filled with its own quotidian horrors. Consumed by resentment and self-loathing, Eileen tempers her dreary days with perverse fantasies and dreams of escaping to the big city. In the meantime, she fills her nights and weekends with shoplifting, stalking a buff prison guard named Randy, and cleaning up her increasingly deranged father's messes. When the bright, beautiful, and cheery Rebecca Saint John arrives on the scene as the new counselor at Moorehead, Eileen is enchanted and proves unable to resist what appears at first to be a miraculously budding friendship. In a Hitchcockian twist, her affection for Rebecca ultimately pulls her into complicity in a crime that surpasses her wildest imaginings.
Played out against the snowy landscape of coastal New England in the days leading up to Christmas, young Eileen's story is told from the gimlet-eyed perspective of the now much older narrator. Creepy, mesmerizing, and sublimely funny, in the tradition of Shirley Jackson and early Vladimir Nabokov, this powerful debut novel enthralls and shocks, and introduces one of the most original new voices in contemporary literature.
Ottessa Moshfegh is also the author of My Year of Rest and Relaxation, Homesick for Another World: Stories, and McGlue. 
About the Author
---
Ottessa Moshfegh is a fiction writer from New England. Her first book, McGlue, a novella, won the Fence Modern Prize in Prose and the Believer Book Award. Her short stories have been published in The Paris Review, The New Yorker, Granta, and have earned her a Pushcart Prize, an O. Henry Award, the Plimpton Discovery Prize, and a grant from the National Endowment for the Arts. Her short story collection, Homesick for Another World, was published in January 2017. Eileen, her first novel, was shortlisted for the National Book Critics Circle Award, won the PEN/Hemingway Award for debut fiction, and was shortlisted for the Man Booker Prize.
Praise For…
---
"Eileen is a remarkable piece of writing, always dark and surprising, sometimes ugly and occasionally hilarious. Its first-person narrator is one of the strangest, most messed-up, most pathetic—and yet, in her own inimitable way, endearing—misfits I've encountered in fiction. Trust me, you have never read anything remotely like Eileen." —Washington Post

"What makes Moshfegh an important writer—and I'd even say crucial—is that she is unlike any other author (male, female, Iranian, American, etc.). And this sui generis quality is cemented by the singular savage suburban noir of Eileen. . . . Here is art that manages to reject artifice and yet be something wholly new and itself in sheer artistry." —The Los Angeles Times

"Eileen is anything but generic. Eileen is as vivid and human as they come . . . Moshfegh . . . writes beautiful sentences. One after the other they unwind—playful, shocking, wise, morbid, witty, searingly sharp. The beginning of this novel is so impressive, so controlled yet whimsical, fresh and thrilling, you feel she can do anything . . . There is that wonderful tension between wanting to slow down and bathe in the language and imagery, and the impulse to race to see what happens, how it happens." —The New York Times Book Review

"The great power of this book, which won the PEN/Hemingway debut fiction award last month, is that Eileen is never simply a literary gargoyle; she is painfully alive and human, and Ottessa Moshfegh writes her with a bravura wildness that allows flights of expressionistic fantasy to alternate with deadpan matter of factness . . . As an evocation of physical and psychological squalor, Eileen is original, courageous and masterful." —The Guardian

"Enormously entertaining and funny . . . A beautiful novel that tells the truth." —Bookforum

"[An] excellent debut novel . . . How will Eileen get out of X-ville? Can she leave unscathed? Why does she keep talking about her father's gun? Though readers will thoroughly delight in the way the answers unfold, they will be left with one lingering question: What will Ottessa Moshfegh do next?" —Boston Globe

"Charmingly disturbing. Delightfully dour. Pleasingly perverse. These are some of the oxymorons that ran through my mind as I read Eileen, Ottessa Moshfegh's intense, flavorful, remarkable new novel. 'Funny awful' might be another one. I marveled at myself for enjoying the scenes I was witnessing, and wondered what dark magic the author had employed to make me smile at them." —NPR

"If Jim Thompson had married Patricia Highsmith—imagine that household—they might have conspired together to dream up something like Eileen. It's blacker than black and cold as an icicle. It's also brilliantly realised and horribly funny." —John Banville

"[A] dark and unnerving debut." —Publishers Weekly

"It is in that gritty, claustrophobic atmosphere that Ms. Moshfegh's talents are most apparent. This young writer already possesses a remarkably sighted view into the bleakest alleys of the psyche." —Wall Street Journal

"Wonderfully unsettling first novel . . .  When the denouement comes, it's as shocking as it is thrilling. Part of the pleasure of the book (besides the almost killing tension) is that Eileen is mordantly funny . . . this tale belongs to both the past and future Eileen, a truly original character who is gloriously unlikable, dirty, startling—and as ferociously human as the novel that bears her name." —San Francisco Chronicle

"Rife with dark emotions and twisted fantasies, Moshfegh's psychological thriller is the sinister account of the reclusive Eileen, whose prospects for escape from her abysmal life take a turn for the worse when a friendship with a coworker spirals into obsession." —Oprah.com

"Eileen swaddles the reader in its dark and sinister mood. Moshfegh's brilliant storytelling builds an almost sadistic level of suspense, so that you can't help but lean in and listen to the narrator, however despicable and repulsive her confession becomes." —Sarah Hollenbeck, co-owner of Women & Children First bookstore, Chicago
 
"Eileen is a singular read, dark and funny and full of oft-queasy truths, ones that may at first seem strange and disturbing, but then are not so far away from our own internal thoughts. Eileen is quiet, awkward and lonely. As Christmas approaches, she is desperate to leave her alcoholic father, her dismal home life and her mind-numbing job at a boys' correctional facility. Enter her glamorous 'new friend' Rebecca and suddenly Eileen is set on a path towards inevitable change, a suspenseful ride to the end. Atmospheric, cinematic, and deliciously uncomfortably heartwarmingly pathetic in the best of ways." —Melinda Powers, Bookshop Santa Cruz (also sent in to Indie Next)
 
"Eileen is unlike anything I've read since, maybe, Patricia Highsmith: a wholly captivating look at a character you're drawn towards in a strange, inexplicable alliance and from whom you can't easily part. I find myself thinking about it still, months later, in the most unexpected ways. Mosfegh has a way with the kind of imagery that brings her world into terrible, precise emotional focus, and the book builds like a slow avalanche. What a pleasure to read!" —Camden Avery, The Booksmith, San Francisco

"Tempting plot machinations aside, you should be reading Moshfegh because she writes incredible sentences, the kind that build and build to create a warped momentum you can't brake. They create a harsh, blackly humorous world, like Mary Gaitskill, but less grave and with more jokes." —Gawker
 
"Like The Woman Upstairs and Notes on a Scandal, Eileen turns on the symbiotic relationship between love and hate, hope and delusion, and—for the reader—repulsion and absolute absorption." —New York Magazine

"The climax of Eileen is bizarre, creepy and oddly satisfying. This novel does not fit neatly into a single genre. Its protagonist is unlikable but fascinating, and ultimately sympathetic. It is a masterly psychological drama that lingers, with a disquieting effect, in the reader's mind." —Newsday
 
"The young heroine—if you can call her that—of Ottessa Moshfegh's chilling debut is exactly the kind of woman whom noir authors tended to summarily ignore. Think of her as a Flannery O'Connor character wandering around a Raymond Chandler novel . . . Moshfegh uses that carefully constructed foundation to build a truly shocking ending, one you'll never see coming. It's hard to believe she's a first-time novelist, so skillfully has she grafted disparate genre elements onto one another: psychological suspense, horror, obsession, and madness. Eileen is as twisted, dark, and unexpected as its title character." —Entertainment Weekly

"In this masterful feat of suspense writing, she captures the distortions and complicities that poison families." —BBC.com
 
"Eileen is a highbrow noir that introduces Ottessa Moshfegh as a talent to look out for." —Bustle
 
"If Shirley Jackson and Mary Gaitskill had a literary daughter, it might be Ottessa Moshfegh, whose unnerving debut is sure to gar­ner attention." —Bookpage
 
"Literary psychological suspense at its best." —Booklist (starred)
 
"A woman recalls her mysterious escape from home in this taut, controlled noir about broken families and their proximity to violence. . . . The narrative masterfully taunts. . . . The release, when it comes, registers a genuine shock. And Moshfegh has such a fine command of language and her character that you can miss just how inside out Eileen's life becomes in the course of the novel, the way the 'loud, rabid inner circuitry of my mind' overtakes her. Is she inhumane or self-empowered? Deeply unreliable or justifiably jaded? Moshfegh keeps all options on the table. . . . A shadowy and superbly told story of how inner turmoil morphs into outer chaos." —Kirkus (starred)