The Legend of King Arthur-a-tops (Hardcover)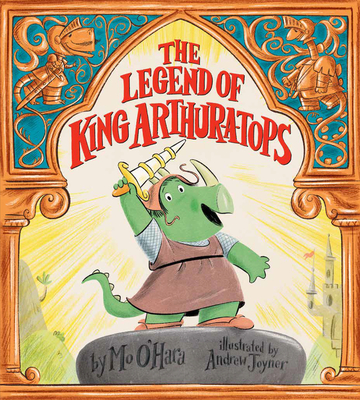 $17.99

Usually Ships in 1-5 Days
Description
---
"Truly this contains some knights to remember." —Kirkus Reviews
A bumbling triceratops must prove himself worthy in New York Times bestselling author Mo O'Hara's second hilarious picture book offering a prehistoric spin on the legend of King Arthur.
It's the Festival of the Stone, and dinosaurs from across the land will try to pull the great horn Rex-calibur from the magical stone. The one who succeeds shall be crowned king or queen. Arthur-a-tops is probably the least likely to accomplish the task. And yet…could he be the one true king?
In this completely reimagined Camelot featuring dino-squires, the trusty Merlin-a-dactyl, and easy-to-trip-over dinosaur tails, O'Hara transforms this classic tale into an enjoyable, accessible, and truly funny treat for young readers.
Coupled perfectly with Andrew Joyner's expressive and classic illustrations, this story will induce fits of giggles and lots of knowing nods from parents who want their little geniuses to have the classics down by first grade.
About the Author
---
Mo O'Hara is a writer, actor, storyteller, and author of the bestselling My Big Fat Zombie Goldfish series. Mo got her start as an actress, traveling across the UK. During her travels, she was told that her stories were good enough to be written down—so she wrote them! Since then, she has hit the New York Times bestseller list with her middle grade series and has published two picture books: More People to Love Me and My Big Fat Zombie Goldfish: The Fintastic Fishsitter. Born and raised in Pennsylvania, she now lives in London. You can visit her at www.moohara.co.uk.
Andrew Joyner is an Australian children's book author and illustrator. In his past life, he worked as a receptionist, a fruit packer, and a tutor. It's safe to say he is a well-rounded guy. Some of his many titles include Too Many Elephants in This House, written by Ursula Dubosarsky, and The Swap, written by Jan Ormerod. You can visit him at www.andrewjoyner.com.au.
Praise For…
---
"Truly this contains some knights to remember."
— Kirkus Reviews