Safari Park (MathStart 3) (Hardcover)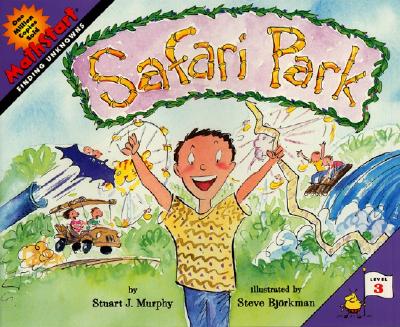 Other Books in Series
Description
---
It's 4 tickets for the Treetop Coaster! Just 2 for the Elephant Twirl! five cousins each have 20 tickets to spend at Safari, and a little algebra will tell them how many rides they can try. But who will dare the death-defying Terrible Tarantula?
About the Author
---
Stuart J. Murphy is a visual learning specialist. A graduate of the Rhode Island School of Design, he has a strong background in design and art direction. He also has extensive experience in the world of educational publishing. Drawing on all these talents, Stuart J. Murphy brings a unique perspective to the MathStart series. In MathStart books, pictures do more than tell stories; they teach math.
Stuart J. Murphy and his wife, Nancy, live in Boston.
Steve Bjorkman has illustrated nearly one hundred picture books, including the New York Times bestseller Dirt on My Shirt by Jeff Foxworthy. He has also sold millions of greeting cards through Recycled Paper Greetings with his brother, Carl. Steve lives with his wife in Irvine, California.